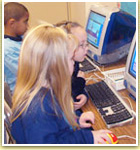 I've been teaching 30+ years and have never seen anything like Starfall. The kids are mesmerized and learn so quickly. Thank you so much for creating such a vital resource in Education today.
— First Grade Teacher
Westview Primary School
South Carolina

I am thankful to have a tool that my students can access on our classroom computer, in the computer lab or at home. My students love it and they say it is fun. I don't think they even realize that they are learning!
— 1st Grade Teacher
Florida

I had just three children who passed DRA Reading Level 3 (grade level expectation). All of the other children were above that! Also, on the DIBELS test, all of the children ended the year at benchmark! Thank you so much!
— Kindergarten Teacher
Missouri

Dear Educators:
The Starfall reading program is designed to be fun, exciting, and to instill confidence in young children as they learn to read. The website and companion printed materials are clear and effective tools to help you implement proven teaching methods. Our website was created by carefully observing the way children learn using a computer. The Starfall Website is easy for students to navigate independently, but it is not intended as a surrogate for the teacher. Our scientific, research-based reading materials and activities are modeled on the "Big Five" focus areas recommended by the National Institute of Child Health and Human Development: phonemic awareness, systematic phonics, vocabulary, fluency, and comprehension. We built-in a sixth we'd prefer not be overlooked—Motivation!
Motivation
Starfall employs the computer to develop feelings of wonderment and play, not rote assessment. The activities, songs and books complement your classroom by creating an atmosphere of fun and enthusiasm that infuses all aspects of learning. Our online and printed activities use positive reinforcement to guide children in making correct responses. Because students meet success with our activities, they are motivated to want to learn more. You will find that Starfall students of all reading levels are excited and eager to participate. Starfall students who receive personal copies of the materials feel a sense of ownership, responsibility and pride.
Phonemic Awareness
Your children will explore and interact with speech sounds in every book and game. See online: Starfall ABCs. Children click on the letters in any order to see, hear, and manipulate the sounds and letters of the alphabet. Kinesthetic learners will love using American Sign Language to demonstrate their letter knowledge.
Reinforce the children's online experience by downloading our free ABC Practice Pages. Your children will apply initial sounds to letters, and practice letter formation.
Systematic Phonics
As your children master speech sounds, they will be able to apply them to letters in predictable ways. See online: Learn to Read. Begin at row 1 and proceed systematically to row 15. See Learn to Read Scope and Sequence.
Support your children's progress by downloading or purchasing our Level I Journal (Block Print or Manuscript). Designed for K-1 emergent readers who have a basic understanding of letter-sound relationships, it offers opportunities to practice the short and long vowel sounds in word families, blends, and digraphs. The Level I Journal corresponds to our online Learn to Read series.
Vocabulary
With a basic understanding of letter-sound relationships, your children can explore a variety of genres and topics. Starfall supports their exploration. Every word on the site is clickable, and will read aloud. In this way the speaking, reading, and writing vocabulary can grow alongside new concepts. See online: It's Fun to Read. This fiction and nonfiction environment cultivates inquisitiveness as children explore the purposes of reading.
Enhance your children's reading and writing development by downloading or purchasing our Level II Journal. This inviting writing journal opens with introductory grammar exercises. The pages that follow contain imaginative open-ended writing exercises supported by picture dictionaries. This journal is intended to meet the needs of students at many different reading and writing levels and is perfect for students studying English as a second language.
Fluency
Starfall reinforces high-frequency words in sentences, rather than in isolation. This helps your children make meaningful associations with these words and more easily commit them to memory. Our selections model the qualities of fluent reading: intonation, expression, inflection and rate. See online: I'm Reading. This series develops comprehension and reading fluency in beginning and advancing readers.
Comprehension
As your children develop the above skills they will transition from learning to read to reading to learn—the end goal of all reading instruction. Writing prompts appear site-wide, but more importantly, every activity at Starfall is a springboard for class discussion.
Our program weaves these focus areas together into a cohesive, fun, and entertaining program that kids love!
Sincerely,
The Starfall Team