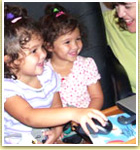 I've told every mother I know about this site, especially ones with children who are having trouble reading. When I ask how their children are doing now, the parents tell me they are amazed by the results. Your site makes kids want to read!
— Parent
Ontario, Canada

Both my 5 year old and 3 year old basically taught themselves to read thanks to your website. My 3 year old is reading easy reader books already and my 5 year old (who has been reading for over 2 years) is already at a 3rd grade reading level! The variety of subjects on your website is amazing! There are few moments in my life that have made me smile more than hearing my daughter say, "We just finished Offenbach, but can we listen to Tchaikovsky before bed?" Thank you from the bottom of my heart for your wonderful, wonderful website!!!
— Homeschooling Parent
Texas

Thank you for offering this terrific interactive website! My family visits everyday!
— Homeschool Mom
Florida

Dear Parents:
Welcome! Like most parents who are concerned about their children's education, you are probably wondering how to help and encourage your child as he* learns to read. Our research-based methods are modeled on recommendations from the National Institute of Child Health and Human Development. Our website and printed materials are perfect for homeschooling or bolstering the instruction your child receives at school. We're here both online and off-line to help you provide the early language and literacy experiences your child needs.
ONLINE
Starfall.com is easy to use—there are no complicated instructions:
Although we recommend your child progress sequentially, there is no harm in allowing him to follow his own interests and create a unique path. Starfall supports your child's exploration. Every word on the site is clickable and will read aloud. In this way, your child's speaking, reading, and writing vocabulary can grow alongside his curiosity.
On occasion, sit down with your child and use the website together. Talk about your shared experience. This supports your child's sense of accomplishment by allowing him to share what he's learned. It will also expand his vocabulary at the same time.
OFF-LINE
Turn off the television and the computer and read to your child. Establish a regular reading time every night. Have fun with the books you read, by giving the characters distinct voices, or acting out scenarios from the stories. Have conversations about what you read. Ask your child questions about the stories and encourage him to ask questions in return. Much of the online content can be downloaded for free or purchased in print form, to be read away from the computer.
WHAT ELSE CAN I DO?
Starting at a young age, have conversations with your child and encourage her to ask questions. Asking questions is the paramount skill in reading comprehension—the end goal of all reading instruction.
Children learn to read through a long series of tiny steps. When your child reads even just a few words, be very proud! Celebrate these small successes. It will motivate your child and open a world of knowledge.
Sincerely,
The Starfall Team