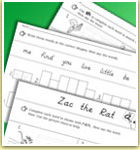 We love Starfall!!! I have the entire Kindergarten class reading!!! It is so exciting!
— Reading Specialist
Pennsylvania

For the last two years I have been using your wonderful website, as well as your books and journals with my kindergartners. I cannot tell you what a difference it has made! Even though I teach in an "At Risk" school, all of my children ended the year reading on or above grade level expectations!
— Kindergarten Teacher
Missouri

My children are already reading, and it's only the 8th week of school.
— Kindergarten Teacher
Arkansas

Welcome to the Download Center
To view and print these downloads, you will need the free Adobe Reader.
These downloads may be reproduced by individual teachers or parents for noncommercial use in their classroom or home. Any other reproduction is not allowed without written permission from the publisher.
Please visit the Starfall Store to purchase low-cost, full-color, bound editions of the items listed below "Starfall Printed Materials."
Starfall Printed Materials
Online Printouts
If you experience difficulty viewing or printing these files try these quick tips:
Download and install the latest version of Adobe Reader.
After installing, close any open programs and restart your computer.
Be sure your printer is working correctly by test printing a different document.
Still not working? Please visit our helpdesk.