Initial Investment
A typical initial investment for a class
of 20 students begins at less than $1000 USD

Classroom teacher materials and 1-year More.Starfall.com Membership, under $495
Classroom student materials, less than $20/child
Children's consumable books, less than $6/child

Annual Reinvestment

Less than $6 per student
More.Starfall.com Classroom or School renewal

I can't believe there's a quality kindergarten program for such a reasonable price! Thanks so much.
—Patricia Riviera, Brownsville, TX

Less than $350 USD

You may discover items you do not
require. To determine your actual
investment, complete our order form.
Prices do not include shipping.
The students and the parents look forward to Starfall materials because they see results and real learning. Parents comment about how much their children have learned in such a short period of time.
—Tiriah Scott, Fort Leonard Wood, MO



Children's Consumable Books
Domestic Orders — To determine your actual investment or to place an order please download our catalog and order form. We ship UPS within the United States.
International Orders — Please download our catalog and order form, fill it out and mail, fax, or email it to us (see order form for details). We will prepare a shipping quote for your acceptance before placing your order. We ship internationally via USPS. Additional taxes, tariffs, or handling fees charged by your country must be paid when your shipment arrives.
Educators throughout the US, Canada, and other countries use Starfall Kindergarten. You can readily adapt the curriculum to your country, here's how...
Teacher Classroom Materials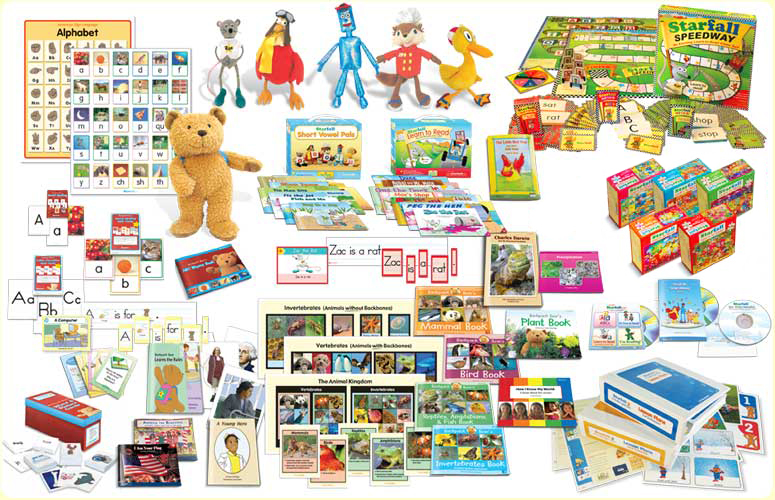 Student Classroom Materials (variable quantity)