My children love the online games, stories, and activities! It's amazing how much they know about it…they have discovered all on their own that if they click on some items things move, make noises!
—Lourdes Milan, San Antonio, FL
Imagination and technology ignite the daily lessons creating a learning environment full of exploration, wonder, and play.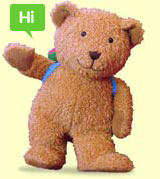 Meet Backpack Bear, our mascot and the heart of Starfall Kindergarten. Within the first week of school, Backpack Bear becomes a familiar and constant friend who motivates his classmates to grow and explore. Backpack Bear comes alive in the classroom thanks to children's innate and powerful imagination.
The More.Starfall.com membership website is a vital part of Starfall Kindergarten and parallels skills and strategies taught in the classroom. It contains all the familiar and proven content from classic Starfall.com, plus new math activities, colors, songs, stories, and rhymes. Click here to explore. This interactive visual, auditory, and kinesthetic technology enables children to preview and explore new information, or practice and review known skills.
Backpack Bear intrigues the children! Every time they see something new with Backpack Bear's picture on it they are so excited and ready to learn all about it.
— Vanessa Vaughn, Ridgecrest, CA
In addition to all the rich, interactive content for children, More.Starfall.com has fun tools and resources for you, too!
The Teacher's Lounge is stocked with worksheet generators, resources, and projectables. Lesson plans and supplementary materials are also available for download. Click here to explore.
Members with School or Classroom memberships can create Class Lists and set site-wide preferences such as Spanish and French ABCs. Watch this short film to learn more.