Whether a child is ADHD, learning disabled or ELD, the Starfall homeschool reading program uses many different approaches each day to help the child master the material. Because of the many tools within the program along with the available online programs, my daughter was never bored. As a homeschool mom with only one homeschooler, it was nice to have the little Starfall stuffed animal characters to fill in as imaginary school friends. This too helped to make learning fun. The Starfall Characters were not just characters out of the Starfall books, they came "alive" in her everyday learning. We still have these characters in our school room this year. A warm reminder of last year's fun!
—Homeschool Parent, Tampa, Florida

Homeschool parents around the country love Starfall Kindergarten. Our research-based, field-tested program provides a fun, systematic, and sequential approach to reading instruction and practice. Our hands-on materials include practice books, games, plush characters, books and posters for Social Studies, Science and more. Subscribe to More.Starfall.com for additional support and entertainment for your child as he or she learns to read.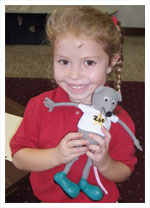 Although the lesson plans were written with a classroom in mind, you can easily adapt most of the sessions to your homeschool setting. In cases where the instructions call for a reenactment of a story or a group presentation, parents tell us they enlist other family members or invite fellow homeschooling parents for a collaborative experience.
The curriculum includes entry, mid-year, and post year assessments. Ongoing assessments are also administered every two weeks, clearly indicating the skills your child has mastered and which skills to review.