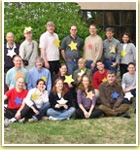 I wanted to rave over the entire Starfall Program. My son, (7) was having great difficulty in learning to read. In fact, I never thought he would learn how. The combination of the printed materials, and online stories, games, and songs, have been more effective than any other program we've tried.
— Parent
Wisconsin

I started my 4 year old with Starfall and she is now reading on her own, and she is so proud that she can read all 15 beginner books without my help! She wrote her first letter to me, on her own, using her personal dictionary with the correct punctuations and can tell you the verb, noun and descriptive in a sentence.
— Homeschooling Parent
Pennsylvania

We are emailing to say that we think your website is AWESOME! As educators, we have found countless activities that meet the needs of our students in fun and interesting ways.
— Grace Abbott
Elementary School
Nebraska

About Starfall
At age 9, young Stephen Schutz was still struggling to read. What came easily for some children required many more hours of Stephen's work, and he was consistently toward the bottom of his class in reading. Now a PhD in physics and a successful publisher and artist, Dr. Schutz wanted to make sure children in his situation today have a resource that can help. He turned to the Internet and conceived a program that would be available online across the world to all children who are learning to read in English.
Founded in 2002, Starfall is made possible through the vision of the Polis-Schutz family. Dr. Stephen Schutz and poet Susan Polis Schutz founded Blue Mountain Arts publishing company in 1970 and together with their son, Jared Schutz, created the popular electronic greeting card company, bluemountain.com. The Polis-Schutz family shares a passion for education. Susan Polis Schutz was a teacher in New Jersey and New York City in the 1960s, while Jared Schutz Polis served on the Colorado State Board of Education.
Starfall is recognized and highly rated by experts. The Reading Teacher named Starfall.com one of "Five Internet sites too good to miss" (May 2006). In 2005 and again in 2008, Homeschool.com recognized Starfall as one of their top five educational websites. Starfall was the first Internet site to be recognized by Children's Software & New Media Review as the highest rated product in their Early Elementary category, Spring 2004.
Starfall is produced by a dedicated and talented team led by Brandi Chase. The Starfall team of educators, writers, artists, designers, animators, musicians, and engineers live all over the world! Roger Wilson leads our computer engineering team.
educators: Dr. Karen Cole, Joan Elliott, Myrna Estes, Pam Ferguson, Judy Goetze, Darla Marquez, Stephanie Riess, and Heidi Suburu
artists + designers: Matthew Baca, Ric Beemer, Dale Beisel, Marc Buchanan, Kimberly Cooper, Craig Deeley, Faith Gowan, Stefan Gruber, Heather Hogan, Terrence Keller, David Lebow, Debby Lee, Frank Lee, Claire Lenth, Gina and Art Morgan of AMGG, Julie Ann Quinsay, Michael Ramirez, Jared Ramos, Scott Stebbins, and Triska Wasser
composers: Randy Graves, Keith Heldman and Richard James
engineers: Kerry DeZell, Tom Meyer, Steve Patschke, and Troy Tazbaz
quality assurance: Jon Leyba, Larry Moiola
customer service: Kira Gowan, Jill Guzman and the entire Boulder Office
Starfall would not be possible without the support of Karen Bidgood, and the purchasing, customer service and warehouse teams at Blue Mountain Arts.